After my Storm Lord's Wrath post, a number of you have reached out to me in comments and let me know that you wanted similar treatment for Sleeping Dragon's Wake and Divine Contention. Well, I'm working on it! Things got a little sidetracked as I worked on my Dungeon Master's Guide to Neverwinter, but I've resumed progress on my content for Sleeping Dragon's Wake. Rather than holding all the content until I've completed everything, I figured I could start posting what I have. As this is still very much a work-in-progress, check back often as I'll be updating this post as I complete each section!
I'm working through the content of the adventure in the order I will be approaching the adventures with my party:
✓ Leilon Point (Completed!)
✓ Death Knight Dreadnaught (Completed!)
✓ Bronze Shrine (Completed!)
✓ Iniarv's Tower (Completed!)
Claugiyliamatar's Lair (Ongoing)

Downloads
Maps with Grids (19.5 MB)
Maps without Grids (18.7 MB)
Shops and POI Cards (10.3 MB)
Monster/Creature Images and Tokens (6.1 MB)
NPC Images and Tokens (5.9 MB)
Other Artwork (14 MB)
Maps
Leilon Point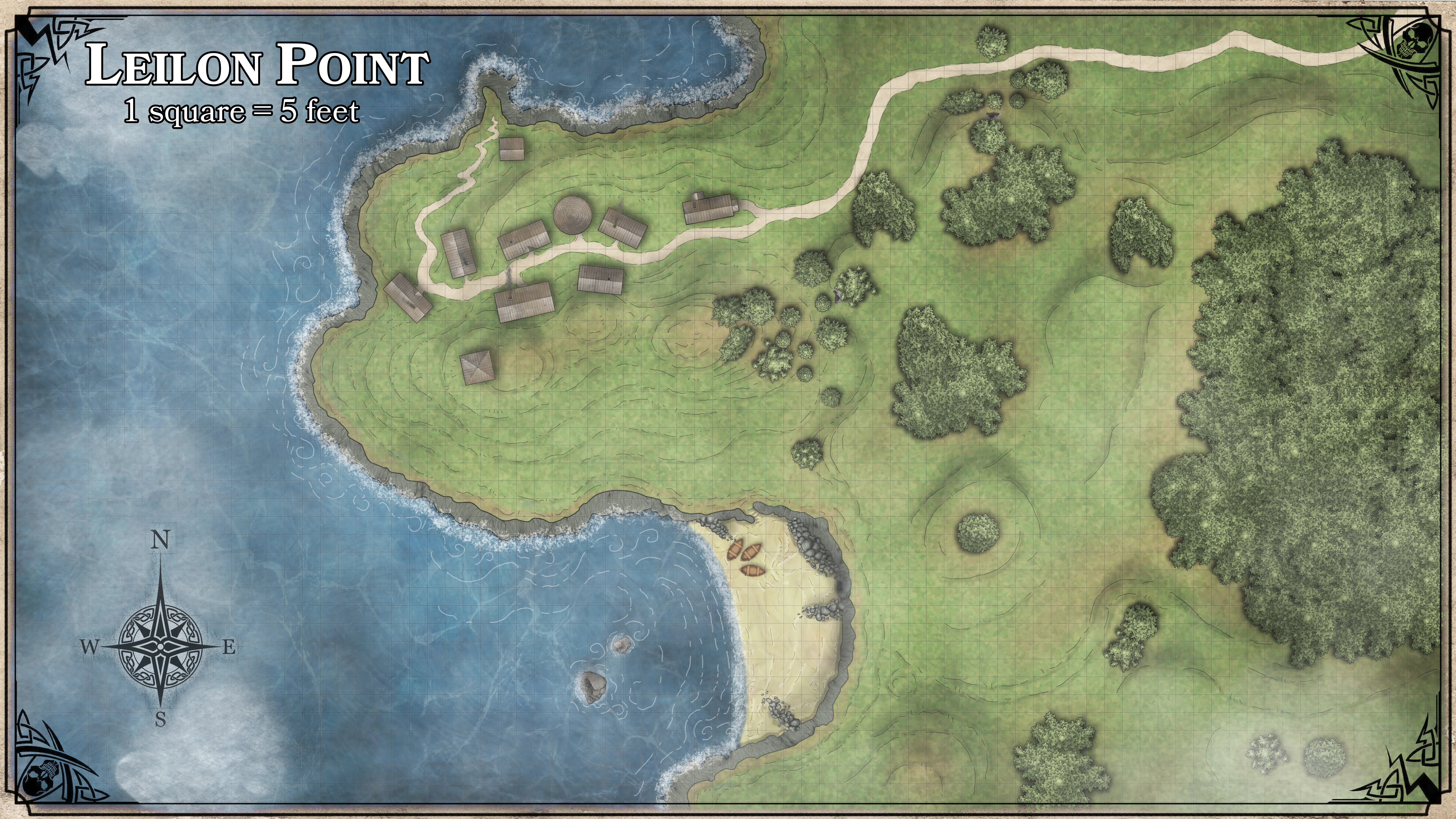 I felt Leilon Point was probably the map most-deserving of some attention in Sleeping Dragon's Wake. Particularly because the map provided shows the Salt Cave entirely. Even the "Player Version" of the map has the Salt Cave revealed, and as such, makes it rather difficult to work with. So I've created a map with two versions: one with the Salt Cave and one without. I've, of course, added the obligatory eerie coastal fog to help set the scene.
Bronze Shrine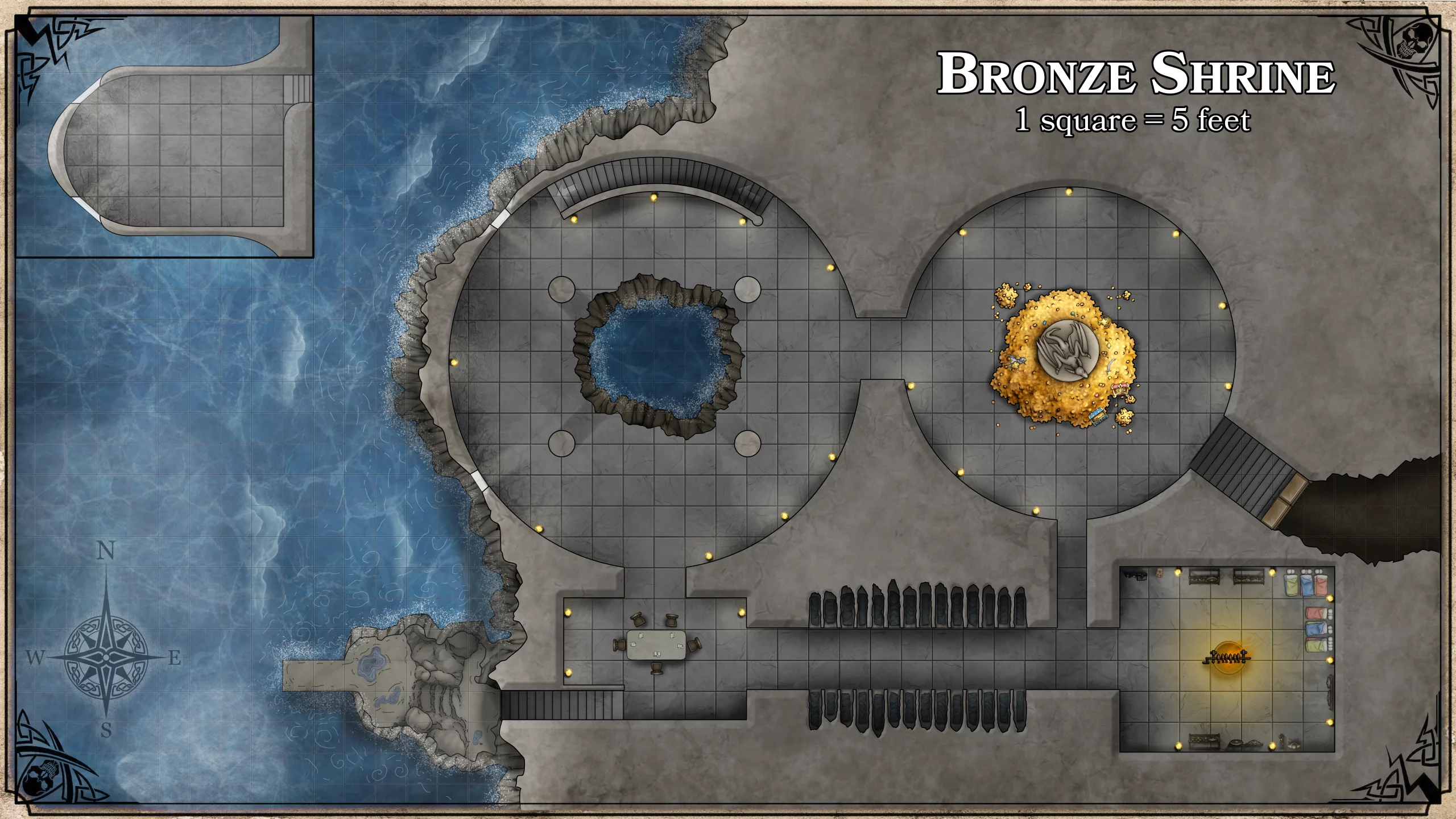 I wasn't originally intending to create a new Bronze Shrine map, but as I looked closer at the official Player Map, I realized it had a few things that bothered me. One of the biggest issues was that the original player map shows the molten bronze trap in the entryway. I've gone ahead and created a new version of the map, with my normal level of increased detail.
Iniarv's Tower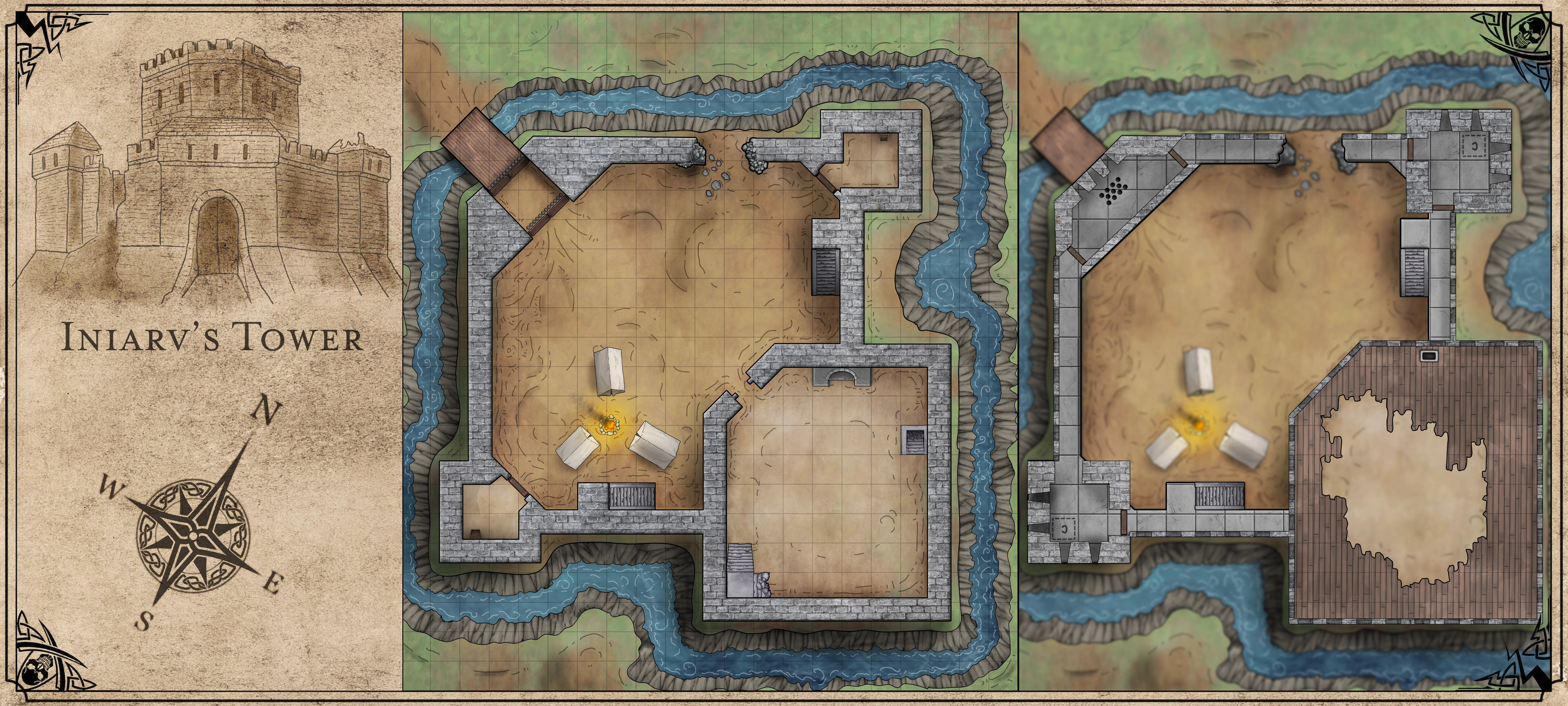 The Iniarv's Tower map in Sleeping Dragon's Wake is actually based off a map from Dungeon [Magazine] #73. I consulted the original map and its description when working on this part of the adventure and learned that the Sleeping Dragon's Wake version had a few notable (but ultimately inconsequential) differences. For example, the cardinal directions on the original map were slightly askew, the staircases in the tower were in slightly different locations, and the original had a nice (albeit not perfectly accurate) illustration of the keep itself. I attempted to correct some of these features to the original map, along with adding an illustration similar to the original.
Shops and Point of Intereset Cards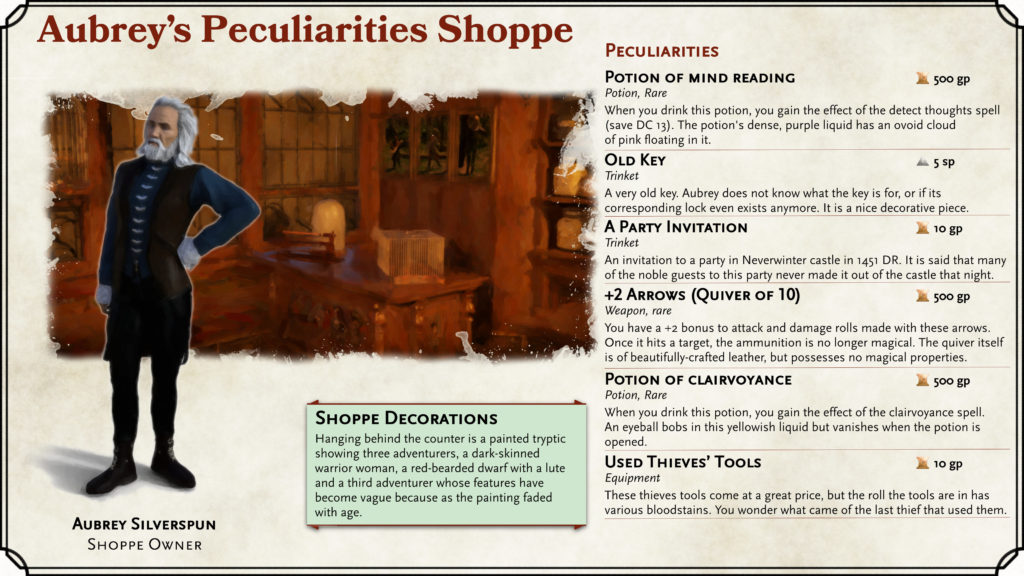 As Sleeping Dragon's Wake matures Leilon, many new locations are provided and old locations are changed. I've added and updated the POI cards. If you're just checking out my site for the first time, be aware, many of these cards are NOT suitable for Storm Lord's Wrath! Make sure you see my prior post for Storm Lord's Wrath if you need POI cards for that adventure.
Monster & Creature Artwork/Tokens
Once again, I am attempting to fill in key missing pieces of artwork for monsters or creatures that exist in the adventure.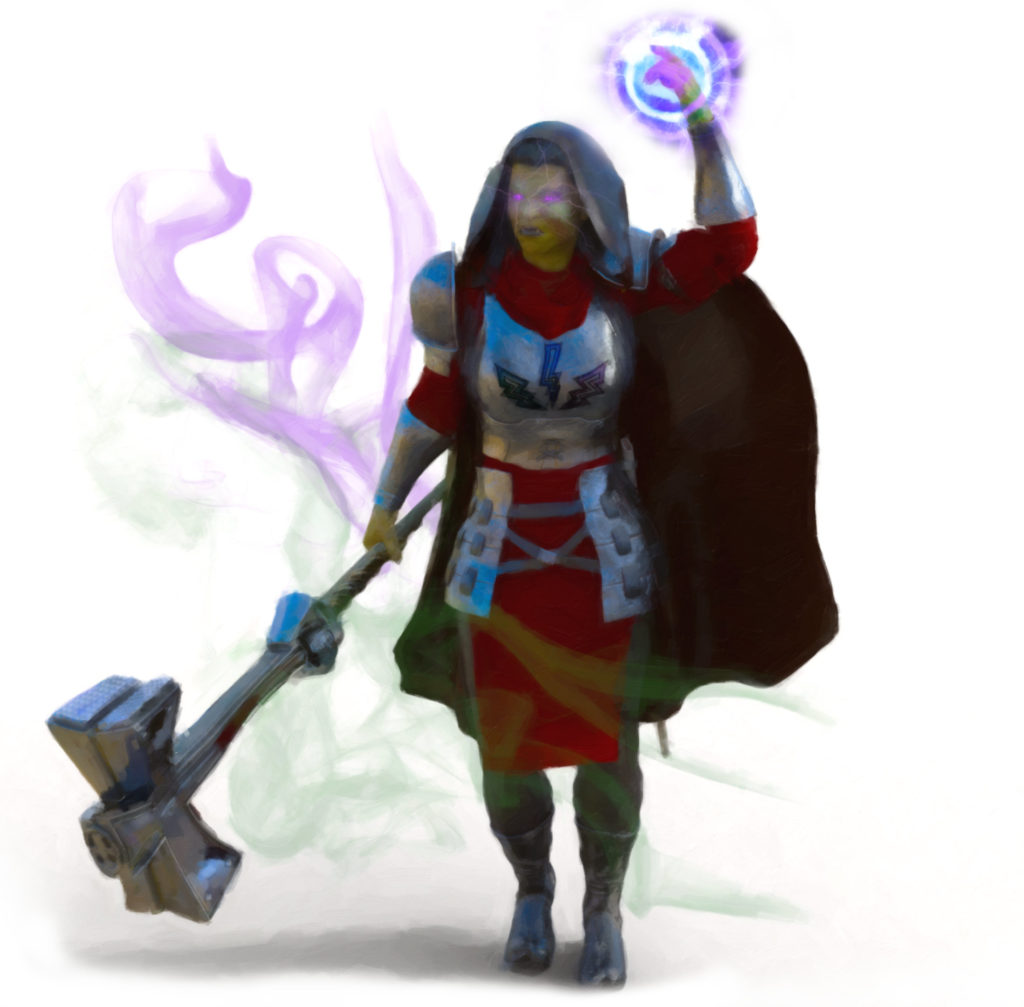 And, of course, tokens to go with each of these!
NPC Artwork/Tokens
With this release, I've added new artwork and tokens for the newer NPCs, as well as included artwork and token for existing NPCs that are still relevant (i.e., most in the town of Leilon).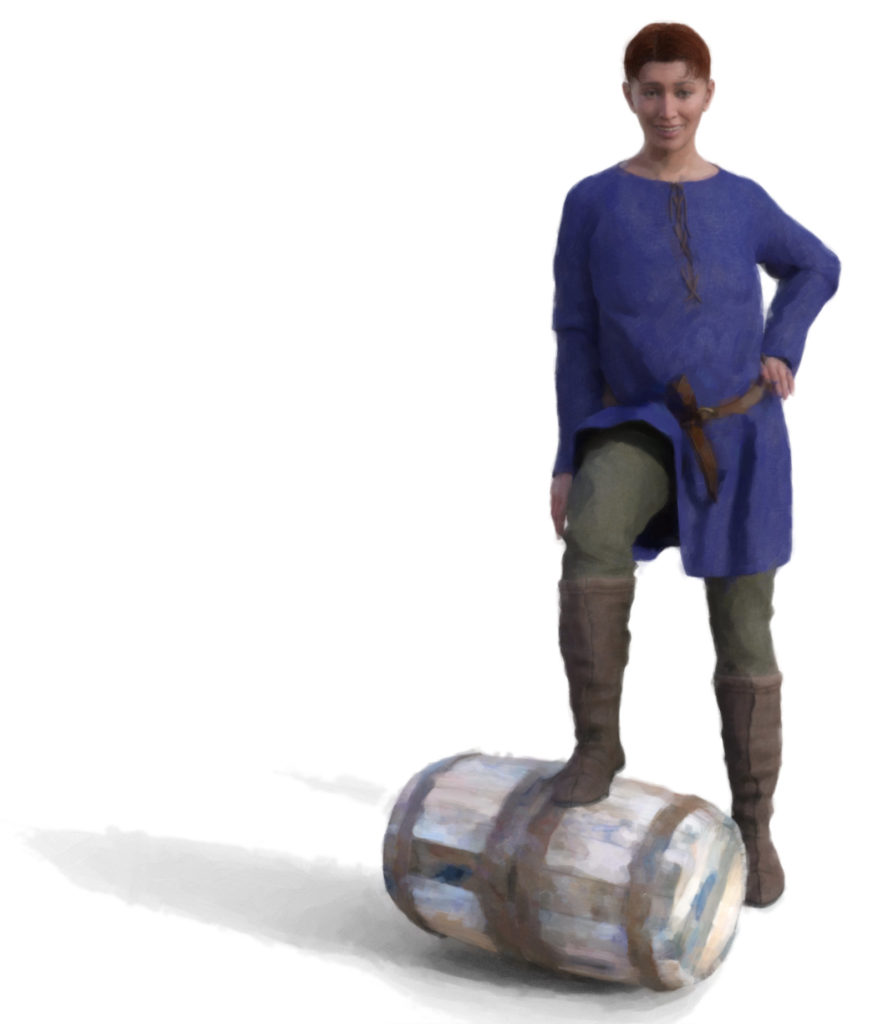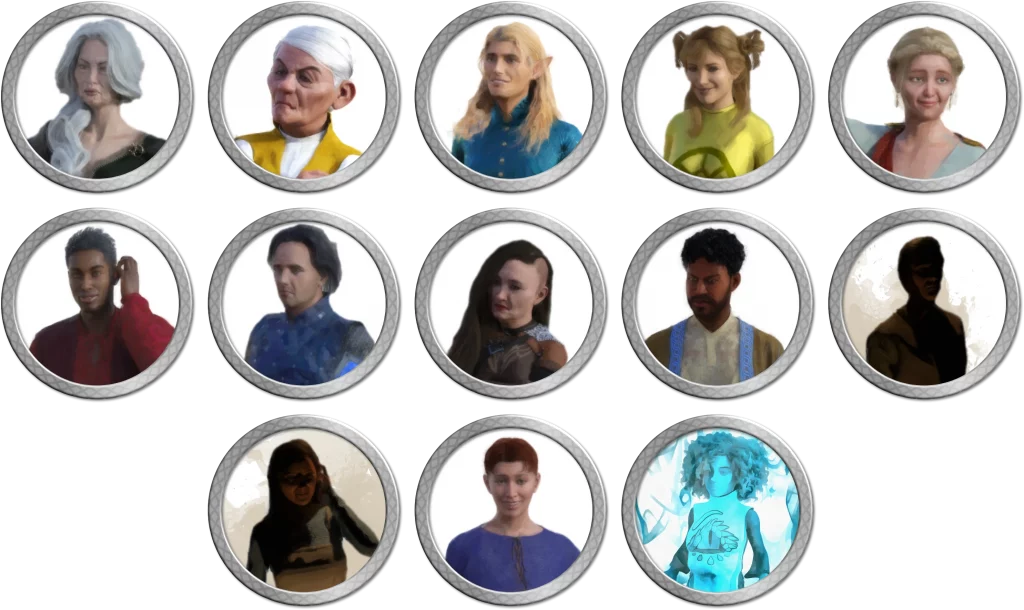 Other Artwork
I often feel inspired to create renderings or illustrations of certain scenes, and Sleeping Dragon's Wake was no different. Here are a few select scenes that I created for this adventure. Some are used as backgrounds in POI cards, but some are just meant to show other players.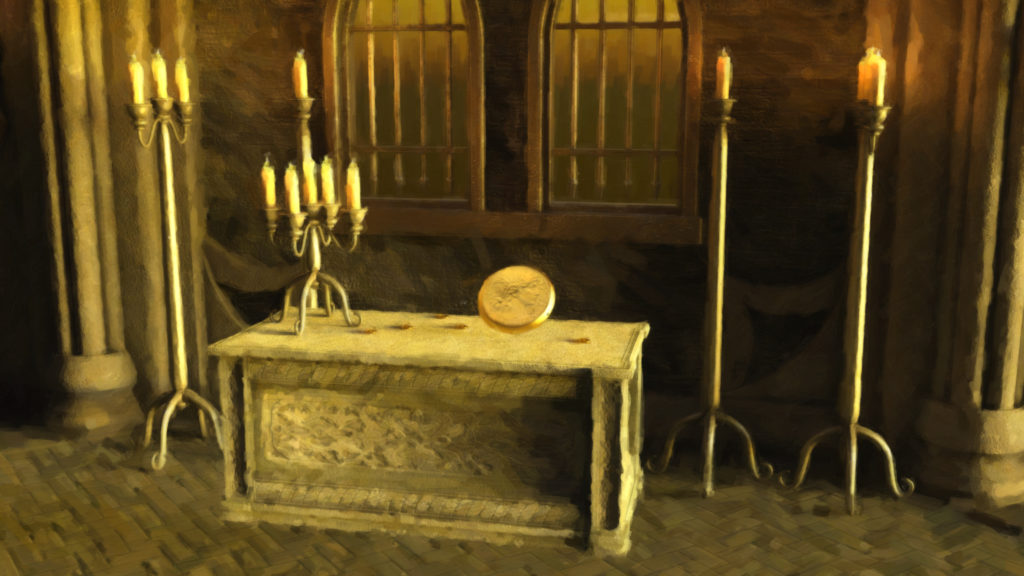 Thank You!
Have questions or requests? Please feel free to leave a comment below, contact me. Join me on my Discord Server to get an early peak at stuff I'm working on!
I've had a number of people reach out to me and ask how they can pay or donate money for my work. Simply knowing others are getting enjoyment out of these creations is absolutely reward enough for me. However, if you feel you absolutely must give me something – I have created a Ko-Fi link so that you may buy me a cup of coffee. Thank you so much!
Fan Content
The Sleeping Dragon's Wake Resources are unofficial Fan Content permitted under the Fan Content Policy. Not approved/endorsed by Wizards. Portions of the materials used are property of Wizards of the Coast. ©Wizards of the Coast LLC.