In this new year, I'm going to try something a little different and start writing reviews for some of the tabletop gaming items and accessories I've procured. First up – the Modular Gaming Table from Wyrmwood. If you're not already familiar, the Modular Gaming Table's claim to fame is that it can transform between a gaming table and a conventional table quickly and easily. It also features a plethora of really intelligently designed accessories that make it the most versatile table on the market.
Update: Almost immediately after I posted this review, Wyrmwood posted their updated pricing for tables. My table shown below is a Medium Walnut – previously called "Black Walnut". When I purchased this table, the Medium Black Walnut with toppers, and no accessories, was $3000. That same table is is now $3700 (+$700), but it does now come with $200 of free cup holders. I feel everything I've said below about this table being a great value for its price still absolutely holds true. Wyrmwood did a great job of keeping price increases minimal while trying to make this line of furniture sustainable and profitable.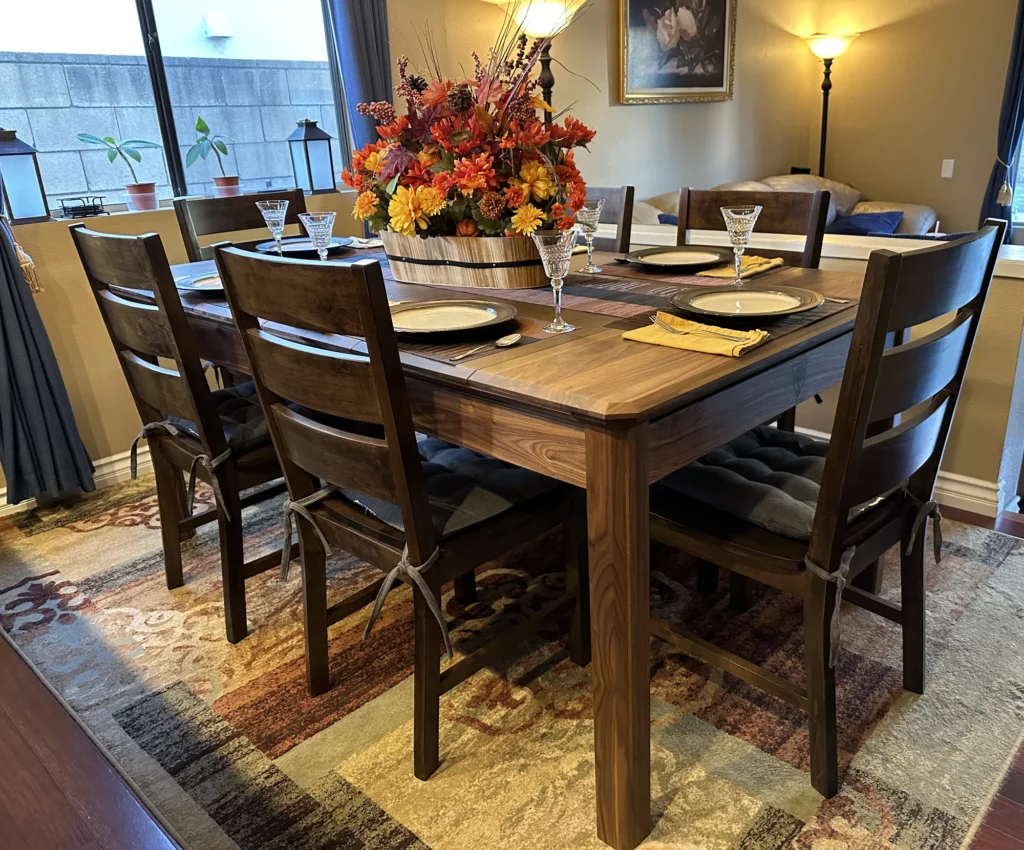 It's a particularly good time to put out a review on this table as Wyrmwood will, reportedly, soon be launching a second Kickstarter round for these tables, followed a month later by selling them directly on their website. I've now owned the Modular Gaming Table (MGT) for a few months and have hosted quite a few game nights on it – both for Dungeons & Dragons and other board games.
Buy This Table
No burying the lede here – if you can afford it, and Wyrmwood has them available, you should absolutely buy this table.
Now, that out of the way, let's move onto the more nuanced details about the table, its accessories, and the journey of actually getting one of these tables.
About The Table
The Modular Gaming Table has two big selling points that differentiate it from other finely-crafted furniture: it can transform and it has cool accessories.
Transforming Table
The Modular Gaming Table is "transformable" in two key ways:
It can switch between a dining, or coffee, table and a gaming table simply by removing some magnetic toppers.
It can change between a small, medium, or large table – or from standard height to bar height – by buying conversion kits.
I can't speak much to the latter. I bought a medium table, and I don't really have the space, or desire, to convert it to a larger table (for now) – but, I love that I have the option to do so.
I can, however, speak quite a bit to using it both as a dining table and gaming table (often in the same night). We generally leave the table set up as a dining table, but have converted it for gaming use on more weekends than not.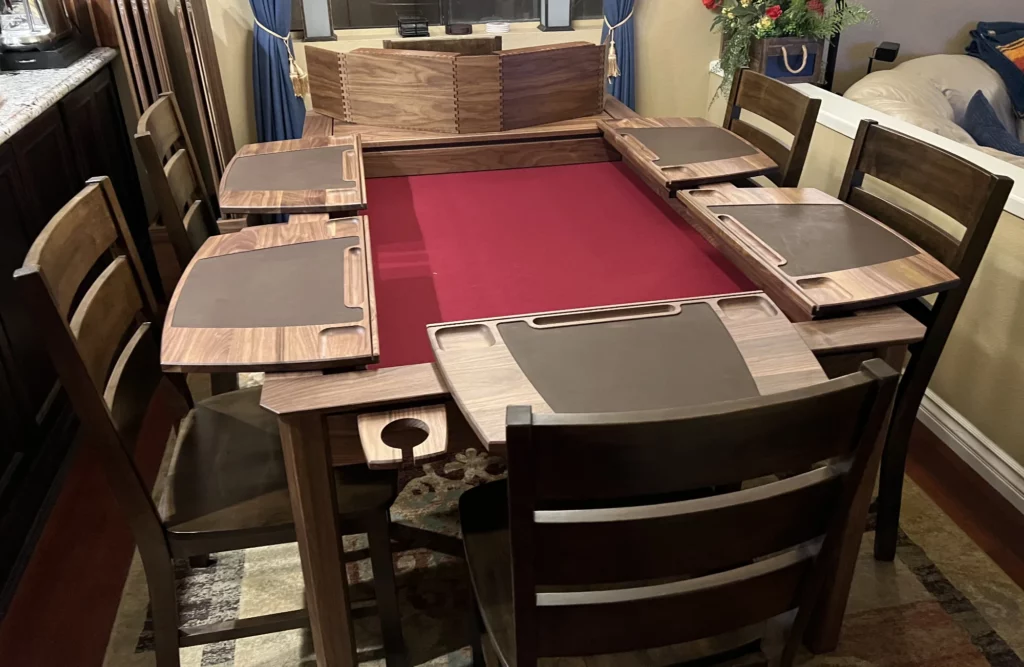 The toppers that conceal the gaming portion of the table are innovative in their own right, and have a host of well-thought-out features. They use strong magnets to snap, and stay, together nicely. They also have a nice tongue-and-groove design with seals that make them a bit more resistant to spilled liquids falling through to the underlying gaming portion of the table.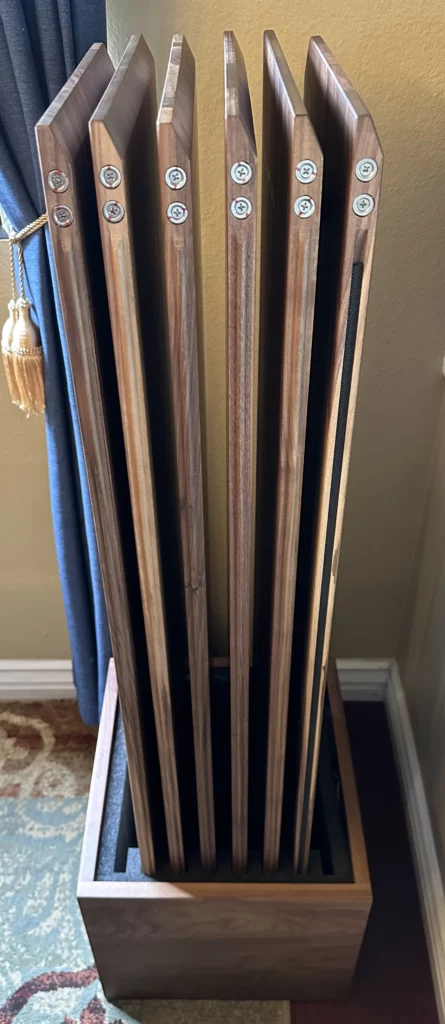 The table toppers can also be ordered with a fancy "Topper Block" – which is a nice matching-wood box to hold all of the toppers while the table is in "game mode". This Topper Block is actually super handy, and I highly recommend anyone who is getting table toppers also invest in the block. Wyrmwood has also hinted that their next MGT kickstarter will include a really cool and innovative lid for the Topper Block (for when the toppers are on the table instead).
Accessories
I was probably first sold on this table by the wide variety of accessories that were available for the table. On the top part of the apron, both on the interior and exterior of the table, is a strong magnetic rail that can anchor a wide variety of accessories. This little design feature empowers a whole host of creative awesomeness from Wyrmwood in the form of accessories.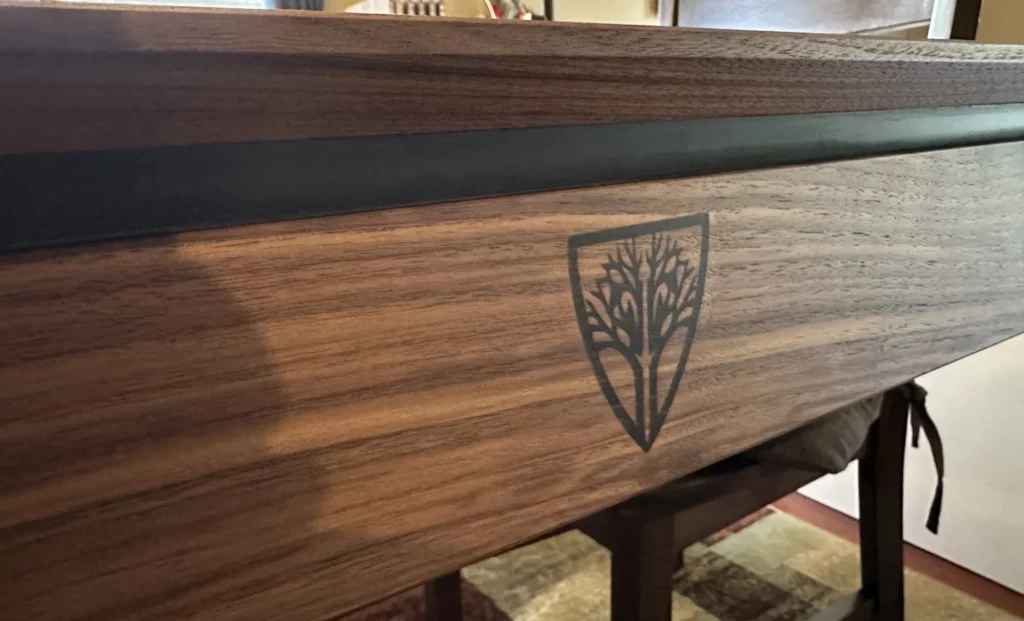 Of the available accessories at launch, I ordered the following:
Cup Holders (Large and Small)
Player Desks – for holding all sorts of Tabletop RPG stuff
Topper Block (as mentioned above)
A "Game Deck" (a matching wooden block to hold my DM screen)
Felt Play Surfaces in 3 colors – Burgundy, Blue, and Grey
Acrylic Overlays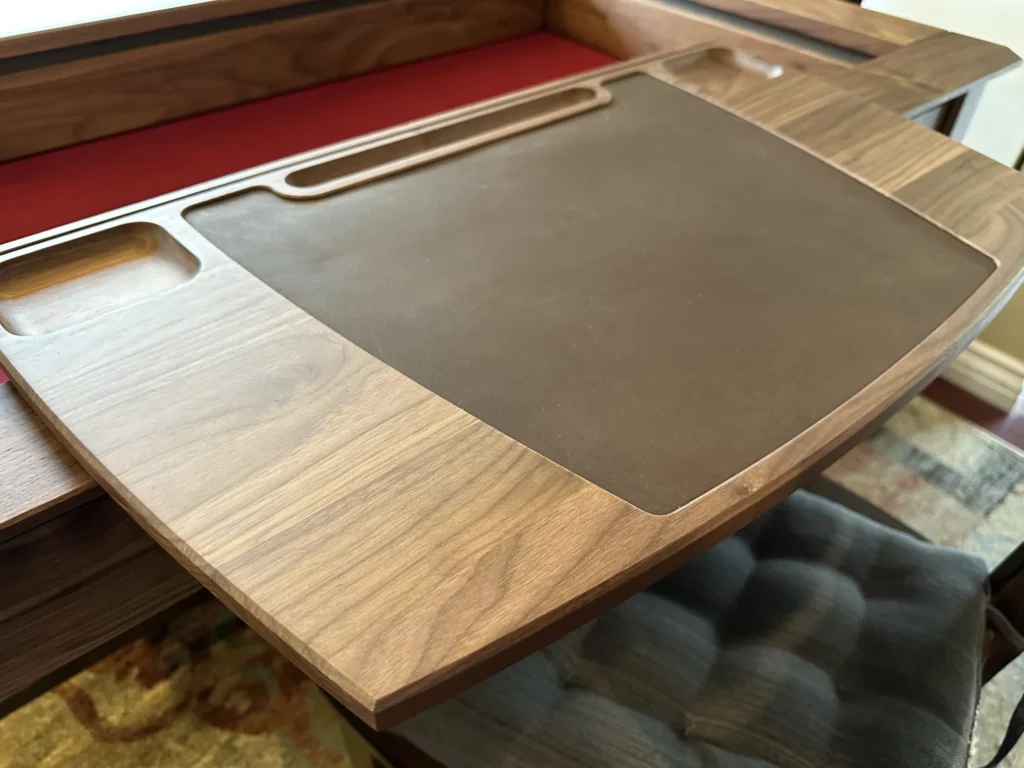 Overall , I'm quite happy with all of the accessories. If I had to do it all over again, the only accessory I don't think I'd order are the acrylic overlays – not because there is any issue with them, just because I don't end up using them much.
Wyrmwood has also continued to design and sell new accessories. One of these accessories, which has been sorely needed in my household, is a mug holder to go along with the cup holder. Unfortunately, it doesn't look like those are to be delivered until closer to March of 2023 (right as the cold weather is coming to an end)!
Ordering Process & Price
It's hard to speak about the Modular Gaming Table and not speak about its ordering process, lead time, and price. It's a big part of what you're "in for" when you order from Wyrmwood – particularly when they do products on Kickstarter.
Ordering
Many of Wyrmwood's products are launched on Kickstarter, and this was no exception. To "buy" this on Kickstarter, one needed to place a $300 pledge for the table to secure their spot in line. The earlier this pledge was made, the earlier you got this table. Later, a bit closer to shipment, Wyrmwood would reach out to those who pledged and take the full order and collect the entire amount for the table and all of the accessories. Being somewhat new to Wyrmwood and this process, I found this Pledge/Deposit mechanic a bit confusing to navigate at first.
Lead Time
This table was launched in late 2020 via a standard 30-day Kickstarter. My table arrived in September of 2022 – two years later. It took this long for a whole host of reasons, but the main issues were primarily Wyrmwood underestimating how long it would take to ramp up their production and pandemic-related supply chain issues. Wyrmwood, to their credit, is remarkably candid about all of their inner business going-ons. I never, during this long wait, felt my table was in danger of not being delivered. It was, however, a bit frustrating as I was holding off on doing anything with my dining room during that entire wait.
Price
I'll be honest, my house has a fair bit of furniture from IKEA, Wayfair, and Target. Don't get me wrong, that stuff looks decent enough, but there are tangible quality differences between this furniture and what I get from Wyrmwood (which I speak about in further below). So, when my medium Modular Gaming Table and accessories suddenly rang up to around $5,000, I had a little sticker shock. I was, at the time, especially naive about what good furniture actually costs. Only in hindsight do I realize this was actually a remarkable bargain. It was actually my process of looking for matching chairs that made me realize that any piece of solid-wood furniture costs far more than the "stained" particle board or gumwood equivalents from one of these bulk cheap furniture outlets. A standard made-in-USA walnut dining table, WITHOUT all of these cool gaming conversion features or accessories, usually starts at about the same $5k. Thus, it was no surprise when I also learned that Wyrmwood ended up selling these tables at a loss. I expect they'll correct their pricing next round so as to actually be profitable, but hopefully the price doesn't rise too dramatically. Knowing what I know today, even if this table had cost me $2,000 more, I still would have purchased it.
Update: Wyrmwood did increase their prices, but the changes were fairly modest. The table shown now costs $700 more than when I purchased it through their first kickstarter.
Ordering Issue #1 – The Inset Screen that Wasn't
Something I always wanted, even before the announcement of the Modular Gaming Table, was to have a table with a built-in TV for the purposes of playing D&D with a "Virtual Tabletop." I was excited that the MGT was being announced wood and form-fitting option.
Sadly, somewhere about halfway through Kickstarter fulfillment, Wyrmwood decided that they were no longer going to offer that to customers. According to Wyrmwood, very few customers even wanted this product, and they were a pain to produce. They promised to fulfill some existing orders for the Inset TV, but as I was in the 10th fulfillment wave, I would not get that opportunity.
I emailed Wyrmwood to ask if I could be included among the last customers that would get the TV, but I only got only this curt response:
"Unfortunately, we have discontinued the Insert Screen for this project.
I sincerely apologize for any disappointment this may cause.
The customer should be able to use the funds for anything else on the project with no issues."
At the end of the day, I actually understand Wyrmwood's reasons for cancelling this product – including their decision to (mostly) avoid incorporating quick-to-obsolete technologies into heirloom quality furniture. And, in the end, I found a solution for getting a TV on the table that works. Still, none of that lessened the frustration I ultimately felt when I got the news.
Ordering Issue #2 – The Espresso Stain Problem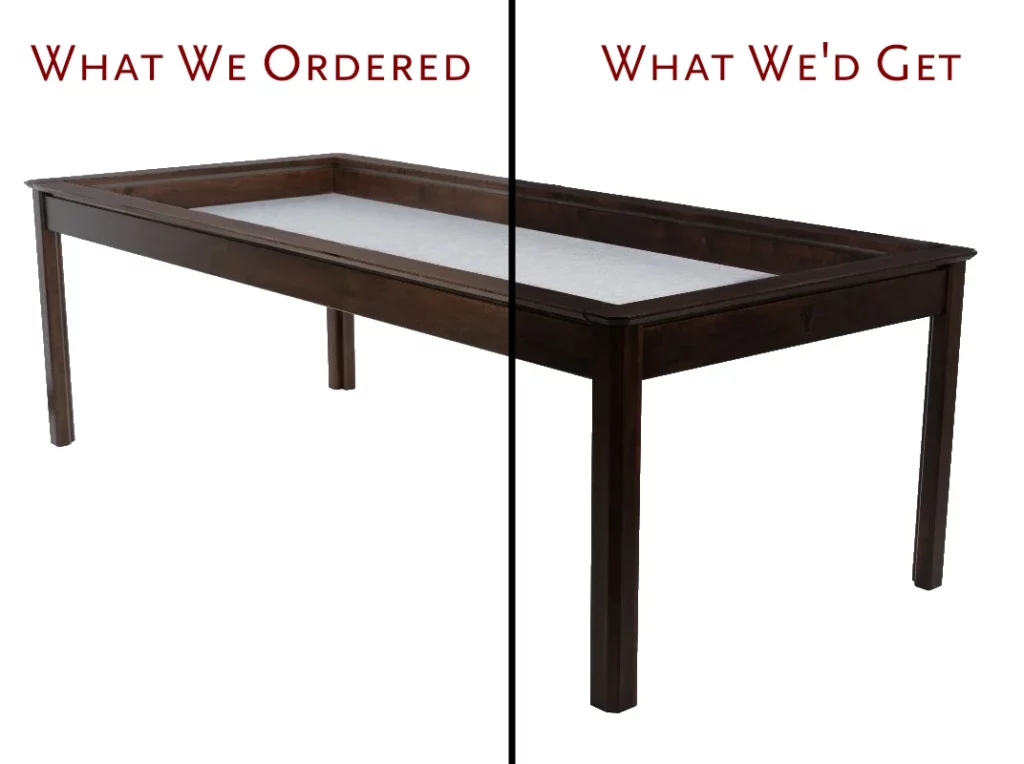 When I ordered my table, I ordered it in a stained espresso finish. The reason was simple – it matched the rest of the furniture already in my home. The pictures they provided during their Kickstarter showed espresso being absolutely perfect for me. Then, sometime a few months before my delivery was slated, they sent out an email to buyers stating that a.) espresso stain was facing supply-chain issues and b.) that because of challenges applying espresso stain consistently, they would be absolutely slathering it on ( resulting in the tables looking almost black). A bit more delay at this point didn't bother me too much, but the color issue was a bigger problem. I wanted a beautiful deep brown (where I could still see some grain), not black.
They were nice enough to offer a pretty steep discount if I wanted to switch to Cherry or Black Walnut as a result of this espresso stain problem. Still – I was pretty depressed by this news. Both Cherry and Black Walnut were a fair bit lighter than anything else in my home.
I reluctantly decided to switch over to their Black Walnut option, paid an extra $1400 to do so, and nervously waited for my results. Now – again, in hindsight – this was totally the right thing to do. I'm so absolutely in love with the beautiful Black Walnut finish that prominently displays the beautiful natural wood grain.
Still, I shouldn't have had to make that decision. Wyrmwood should have anticipated stain application issues – after all, they're the woodworking experts here. It looks like, as a result of the espresso stain issues, Wyrmwood is cancelling their espresso stain option altogether going forward.
Arrival and Assembly
My Modular Gaming Table and its accessories arrived in somewhere around twenty boxes! It actually took up so much truck space that it arrived over two separate days – luckily my UPS guy was super-cool about it all. As you might imagine, after two years of waiting, I was a bit anxious about my table getting damaged in transit and having to wait even longer while critical components got replaced. To my dismay, some of the boxes were a bit beat up and torn open when they arrived. It turns out, however, that Wyrmwood did a really excellent job protecting everything so that despite being a beat up by shippers, everything internally arrived absolutely unscathed. Woohoo!
Given how many boxes arrived, I anticipated that the assembly would be pretty complicated. Figuring my wife and I may need some additional assistance, I invited some family over, provided drinks and pizza, and settled in for a solid few hours of assembly.
Turns out, this was all for naught, as assembly was super straight-forward. There's really only like 9 pieces that actually need to be put together – 4 legs, 4 aprons, and the plywood base. With the four of us tackling it, we had it all done in 30 minutes or so. My wife and I could have easily handled it on our own as well. I wish I had captured photos of the assembly process, but it all went so quickly and easily, that there wasn't really much to show. I will mention that the table, being as wonderfully solid as it is, is heavy. You'll want at least two people in order to flip it right side up at the end of the assembly process.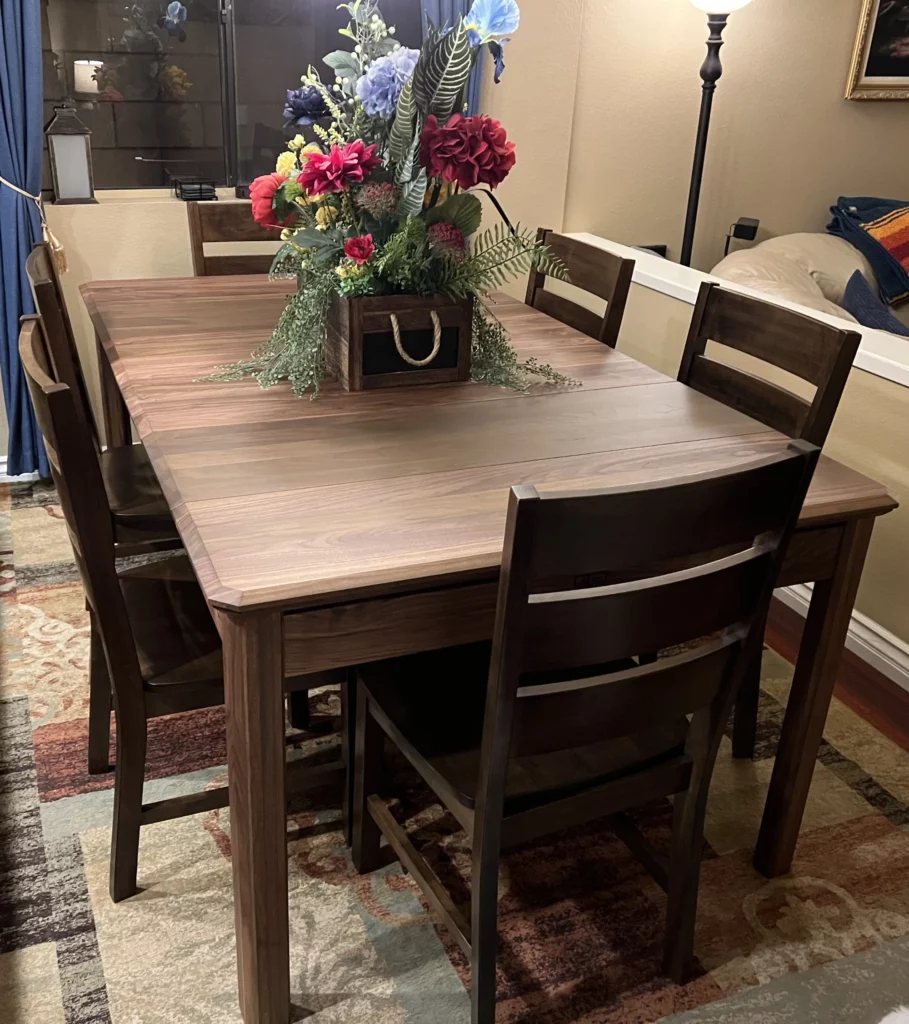 All of that nice packaging that saved our table from being damaged in transit did come with a bit of a toll. We had cardboard and packaging material occupying our garage for the next 3 or 4 weeks as we filled up our recycle bin entirely trying to dispose of all the material. I don't really list this as a negative – this was clearly needed to keep the table safe for shipment, but it does feel like an absolute ton of cardboard waste.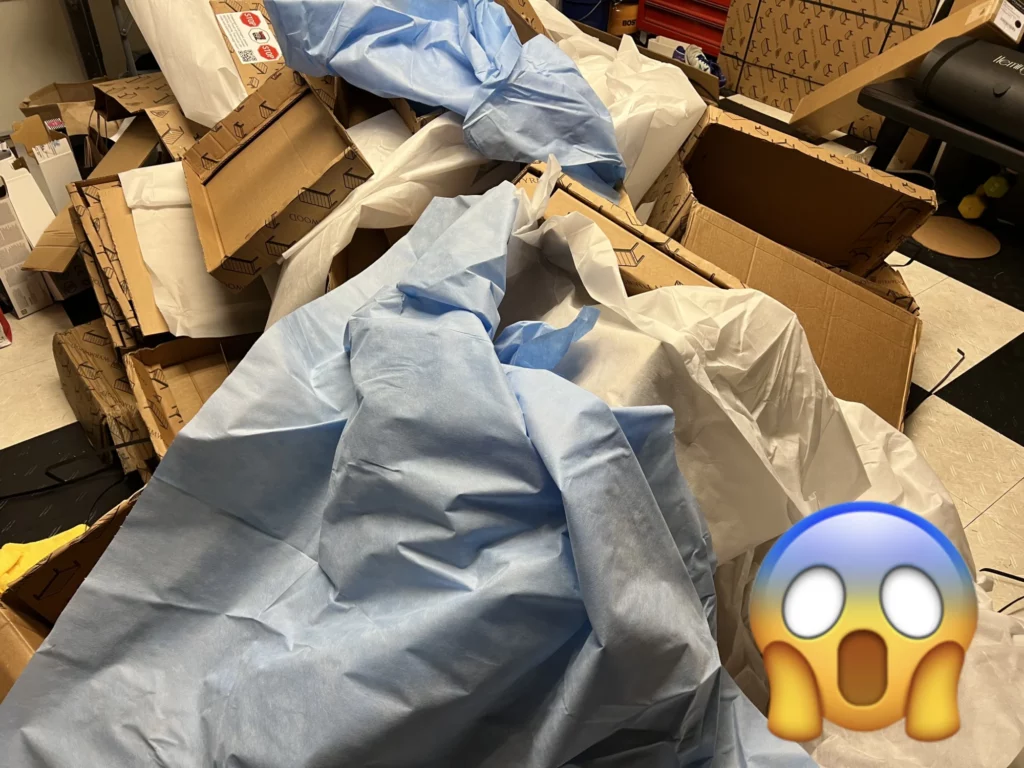 Furniture Build Quality
The Modular Gaming Table is probably the highest quality piece of furniture I have in my home now. I mean this in a way that is completely independent of all the cool and fun gaming features packed into the table – it's just well-built. This review and pictures simply cannot do this aspect of the table justice. Quite a few of our houseguests have actually commented on its quality unprompted. They see, feel, and even smell (!) the solid wood construction and beautiful finish, and usually make some comment along the lines of "wow, this is really nice".
Wyrmwood actually does not market this as being an "heirloom" quality piece, instead choosing to reserve that qualifier for their "Prophecy" line of furniture. Instead, they market the Modular Gaming Table as a more consumer-friendly, cheaper product. Don't let that marketing choice fool you, however, as the sturdiness and craftsmanship of this solid-wood table give me every reason to believe many people will be holding onto it for a lifetime and passing it down through the generations.
Dungeons & Dragons on the MGT
Hosting my D&D games was what I had in mind when I bought this table. In this regard, the table is absolutely everything I hoped it would be (and then some).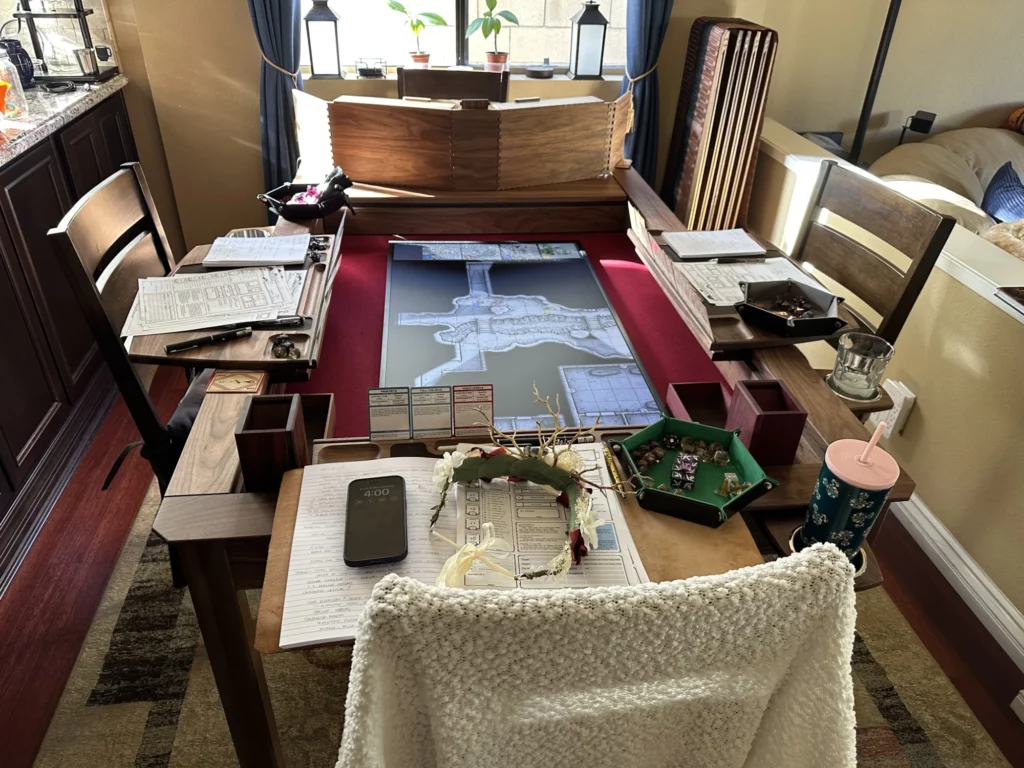 As you can see from the photos above, I was able to ultimately achieve my goal of getting a Virtual Tabletop TV on the desk with the 43″ version of Samsung's The Frame TV. Everything about the table worked out brilliantly for my D&D game nights. My players love their player desks, I loved the way the Game Deck not only held my DM screen, but also concealed a bunch of the technology I had hidden under it.
Even cleanup was a breeze – I was able to conceal 6 player desks, my 43″ TV, D&D books, dice towers and tray, and more all under the table toppers. I really couldn't even imagine a better design that allowed me to both play D&D and have dinner on the same table.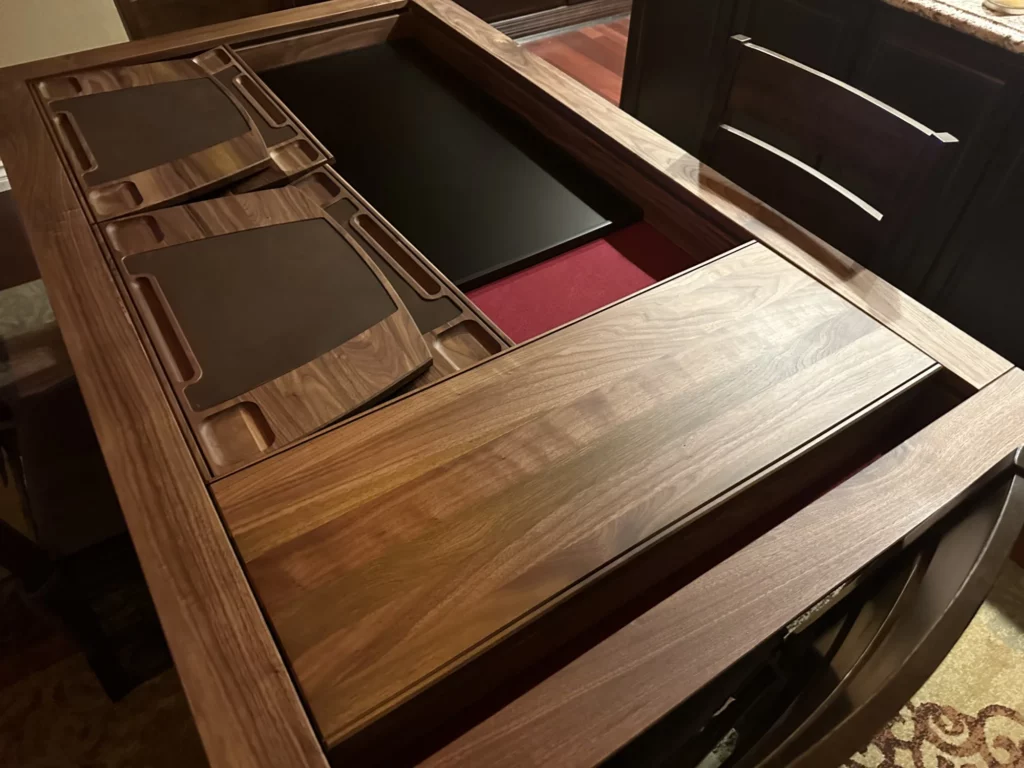 Board Game and Casino Nights on the MGT
Tabletop RPGs obviously aren't the only types of games for which the Modular Gaming Table is excellent. We've found the table is an absolute delight for playing board games. Playing Settlers of Catan is definitely a real treat on the MGT (photos below with bonus Wyrmwood Magnetic Dice Towers).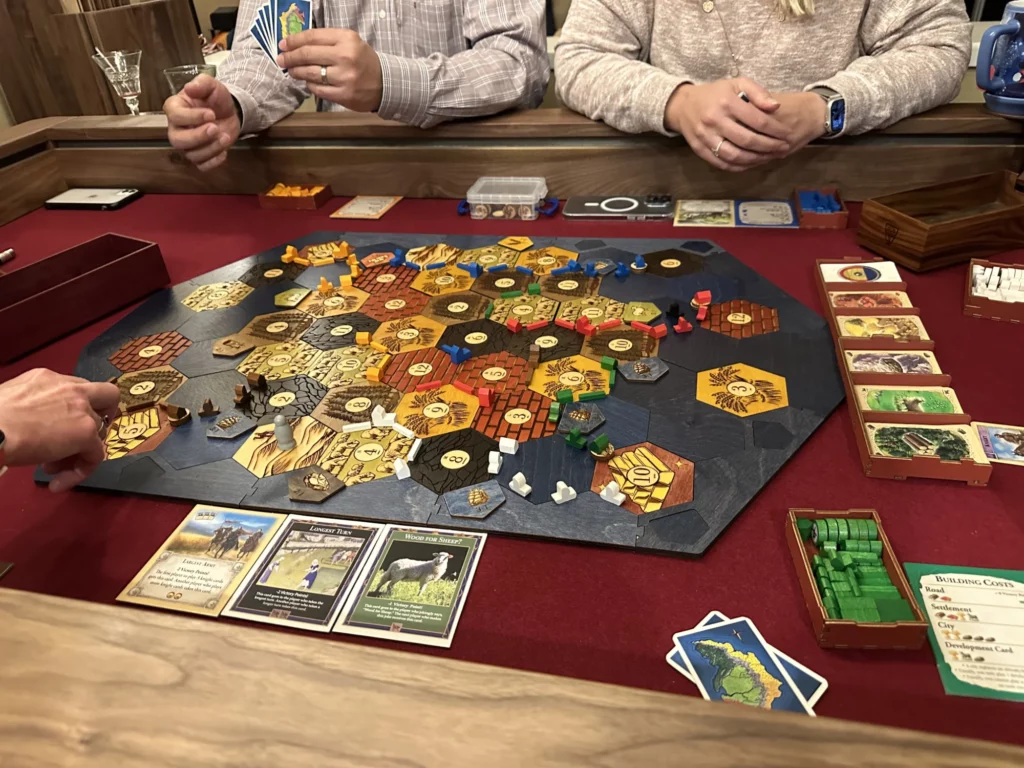 Recently, I even procured an inexpensive casino felt and cut it down to size for the Modular Gaming Table. Everyone had an immense amount of fun having a casino night and playing Craps on the MGT.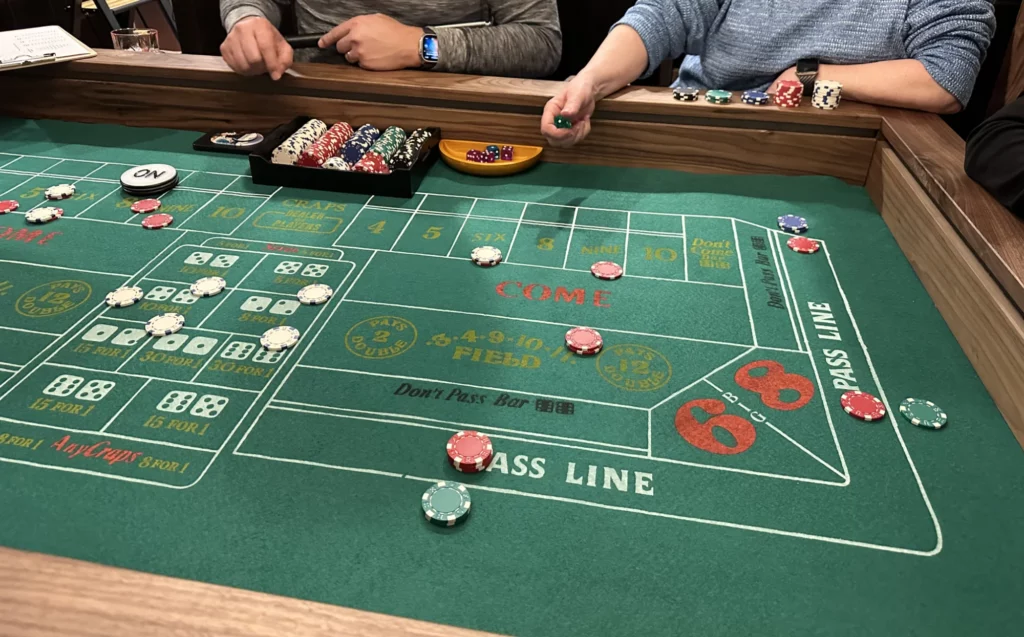 The Modular Gaming Table is also excellent for doing puzzles. Need a table for puzzles, but don't want to move your puzzle when you need to eat dinner? No problem! Simply cover up your puzzle with the toppers and you're good to go!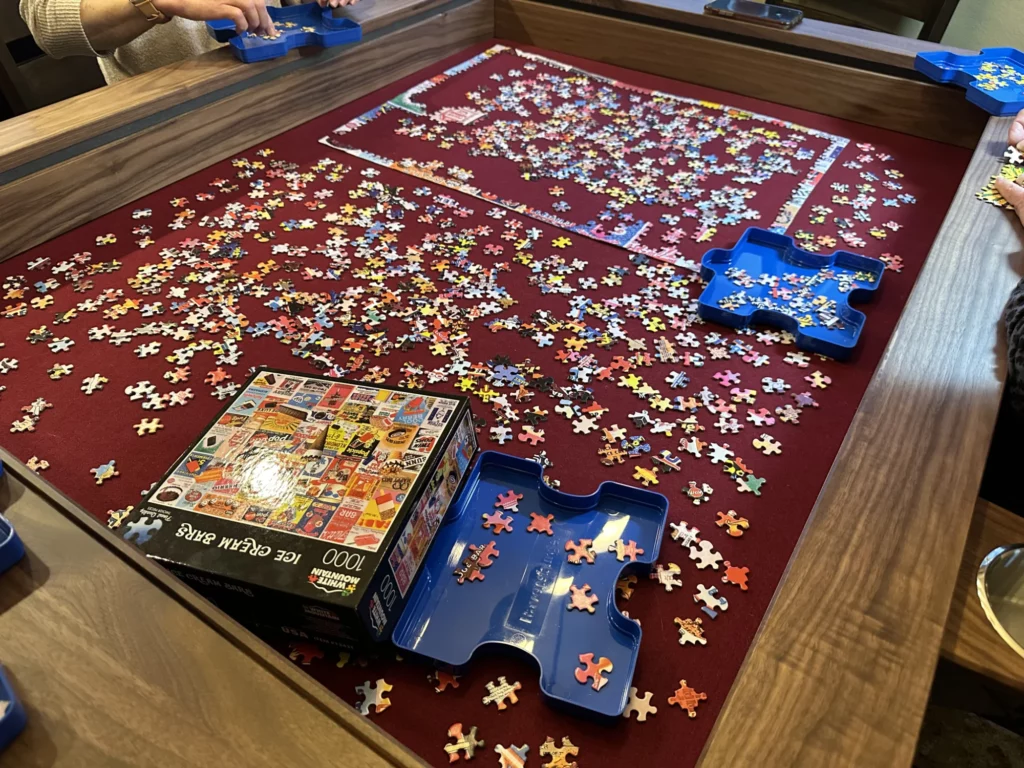 Wyrmwood & Kickstarter
All-in-all, I love my Modular Gaming Table. Really, none of my complaints are about the product itself. Instead, the complaints here were about the effort of getting the product, and the emotional highs and lows that came with Wyrmwood developing much about this product after I had already pledged to buy something. As such, I think all of my complaints have a direct trace to Wyrmwood choosing to use crowdfunding to launch their products.
This is not a bash on Kickstarter, nor on Wyrmwood for using them – there's absolutely a time and place for that. I just feel like Wyrmwood is now the type of company that has grown beyond the capabilities of that platform, at least for the launch of major furniture purchases like this.
As a now-avid watcher of Wyrmwood's WyrmLife video series on YouTube, I can tell I'm not the first to bring up the issues with ordering Wyrmwood products through Kickstarter – so, hopefully those issues will soon be coming to an end as Wyrmwood embraces a more direct ordering process. I don't think anyone expects, or wants, Wyrmwood to suddenly become a bulk furniture warehouse with two-day shipping, but a more traditional online ordering process would go a long with way with customers like myself.
Summary
I am extremely satisfied with this table and highly recommend it. Essentially, none of my complaints are with the product itself, but instead, with how long it took to get the table and with design/production changes that occurred after I preordered the table.
Natural 20 (The Good)
Top-notch, heirloom-grade build quality
One of the most innovative tables on the market
Wyrmwood continues to launch new, excellently-designed accessories
Can be upgraded to a larger size later
Great value for a solid-wood table made in America
Easy assembly
Natural 1 (The Bad)
Long lead time to acquire the table from point of purchase
Product design changed after order was already placed