Today, I'm thrilled to present my Dungeon Master's Guide to Neverwinter. Consider this a gift I humbly offer to all of you wonderfully hard-working D&D DMs. The goal of this guide is to give a Dungeon Master all the tools and resources they need to have their party visit Neverwinter in D&D Fifth Edition. I was particularly interested in helping all of the newer DMs that may have started with Lost Mine of Phandelver or Dragon of Icespire Peak. I hope that you all find the contents of this guide, and all of its associated resources, helpful in delighting your players as they enter Neverwinter.
Downloads
Guide
A Dungeon Master's Guide to Neverwinter – PDF (30 MB)
A Dungeon Master's Guide to Neverwinter – EncounterPlus Module (60 MB)
Resources
Neverwinter Maps (13 MB)
Battle Maps (29 MB)
Neverwinter Artwork (9 MB)
Point-of-Interest Cards (7 MB)
Point-of-Interest Cards – Affinity Publisher Files (378 MB)
Maps
For this guide, I knew that I needed a beautifully detailed map of Neverwinter as it exists in Fifth Edition. I felt the community deserved something a bit more detailed than what is available in the Sword Coast Adventurer's Guide. I fancy myself a bit of a D&D cartographer, but doing Neverwinter justice was simply beyond my skill level. Thus I commissioned a map from the amazing cartographer, Damijan Jeric. Damijan does fantastic hand-drawn maps of both real world and fantasy locations, and he did an absolutely amazing job on Neverwinter.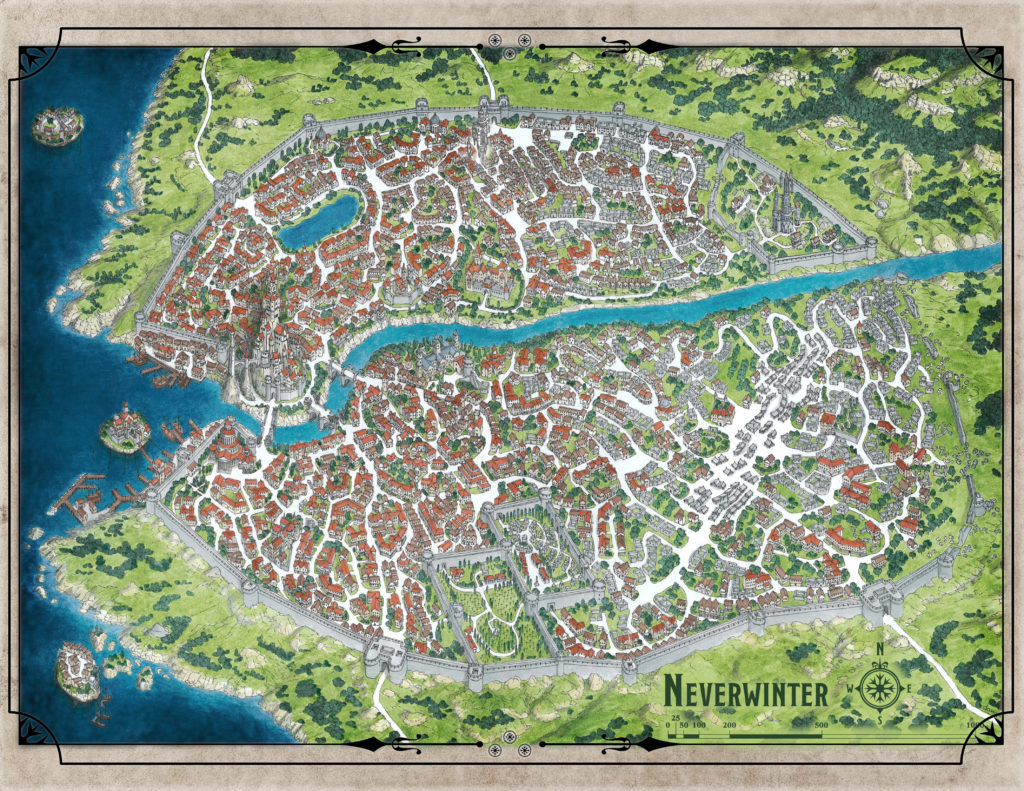 As an additional resource, I have provided a number of Battle/Encounter Maps in the guide. Some of these are just general utilitarian maps of the urban environment, and others belong so specific mini adventures in the guide. If you're looking for a particular Battle Map in Neverwinter that the guide doesn't have, please leave a comment and I'll see what I can add to future iterations of this guide!
Artwork
I had a handful of locations, scenes, and people I knew I wanted to depict. I also knew that I wasn't nearly skilled enough to create all of these myself, so I set out to commission a number of really excellent pieces from some very talented artists. It was fun to see how each of the individual artists interpreted the text of the scenes, and having such a great variety of styles fits right in with D&D tradition! I think these works all speak for themselves.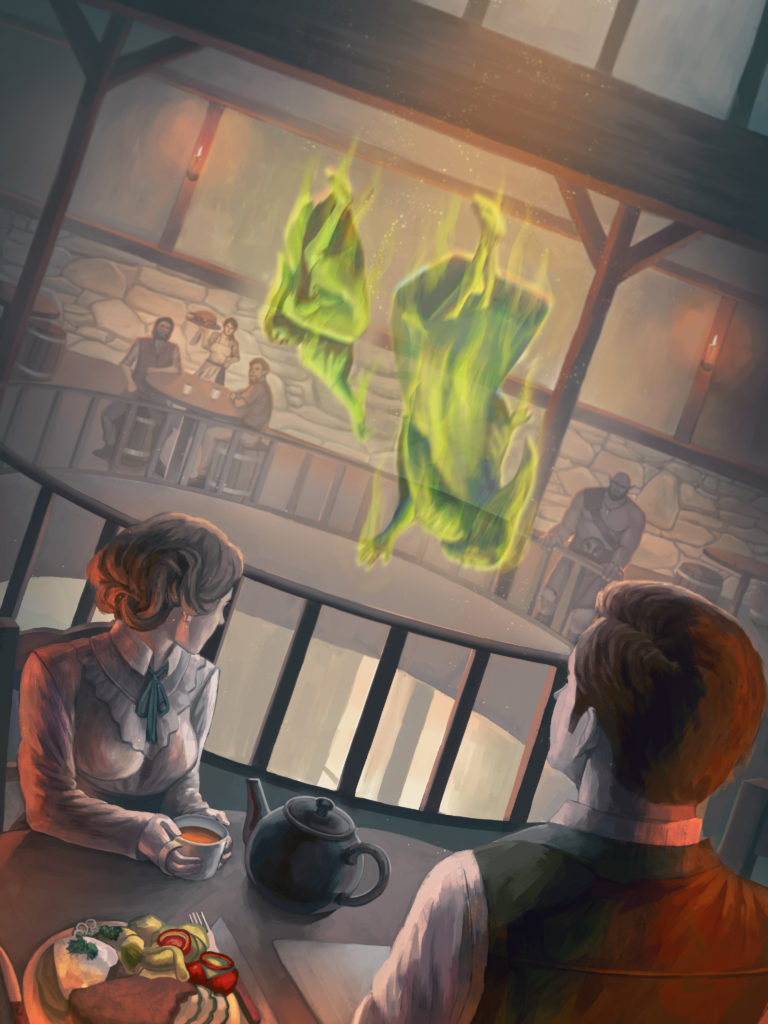 The Fallen Tower: One of the most elaborate scenes I had commissioned was the events of the Fallen Tower – a tavern that has magical phantom images of mages falling to their fiery deaths repeated night after night! It's a truly creative and bizarre scene, and one of the most memorable in Neverwinter. The very talented Deryl Arrazaq illustrated this piece for me. Working with Deryl was a delight – it's like he read my mind in what I wanted out of this piece.
The Beached Leviathan: Another very memorable locale in Neverwinter is the Beached Leviathan. It's a beached pirate ship that has turned into an inn and tavern. It's a truly fun location, and allows players to practice their pirate speak. Another very talented artist, that goes by skiho, did an absolutely amazing job on drawing the Beached Leviathan.
Castle Never: The majestic scene of Castle Never (that I used as my cover image) was done by the incredibly talented Valery Sazonov. Valery does amazing fantasy landscape and cityscape pieces, and has a masterful grasp on creating beautiful time-of-day colorings. I think the sunset hue with which she captured Castle Never was truly stunning.
The Moonstone Mask and The Shard of the Moon: Syeda Farwa was commissioned to do two of my favorite locales. Syeda is another very talented landscape artist and does big and bold imposing structures in her artwork. I had Syeda take on two of Neverwinter's magically floating locations: The Moonstone Mask and The Shard of the Moon!
Dagult Neverember: Last, but certainly not least, was Esteban Santos, who was commissioned to create a rendition of the incredibly complex character Dagult Neverember. Esteban does absolutely fantastic monster artwork and tokens on a regular basis, and knows D&D properties and characters well. It was fun watching him work out a variety of initial sketches on Lord Neverember to capture his disposition correctly.
Shop & Point of Interest Cards
One of the most popular things I do is create Shop/Point-of-Interest cards for places I expect players to need to stop and "browse". I find these cards are immensely helpful in freeing up me, the DM, to roleplay at these locations (rather than spending my time scrambling through binders of price lists). They also give the players some extra visuals when theater of the mind isn't doing everything it needs to do. I have created these for a number of Neverwinter locations, and I'm open to doing more. Drop me a line if there are particular Neverwinter locales that you think are deserving of a card!
I have shop cards for both cannonnical and homebrew locations in Neverwinter. Be sure to check out the Downloads section above for download links to both the shop cards as well as their source Affinity Publisher files.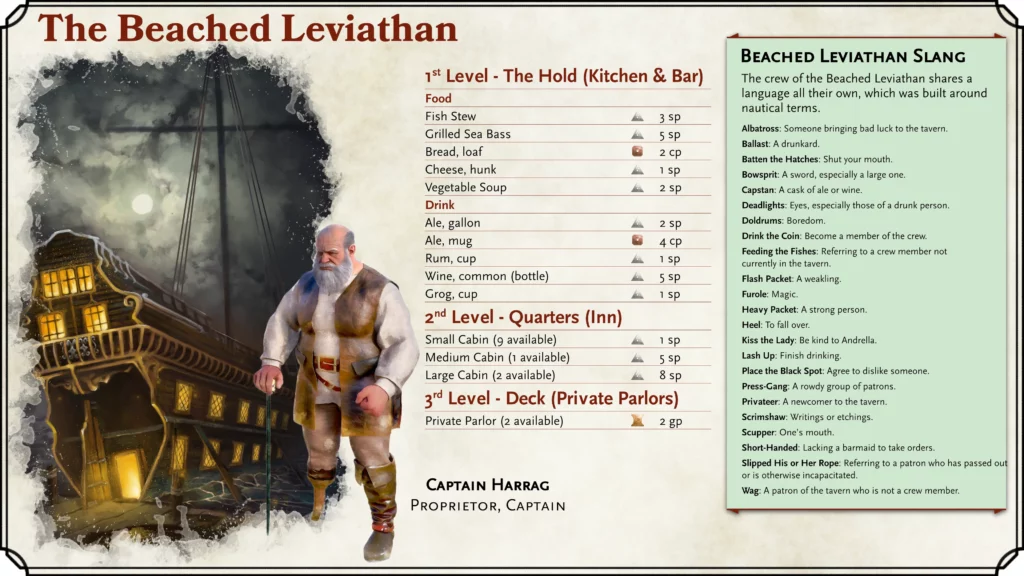 And Much More!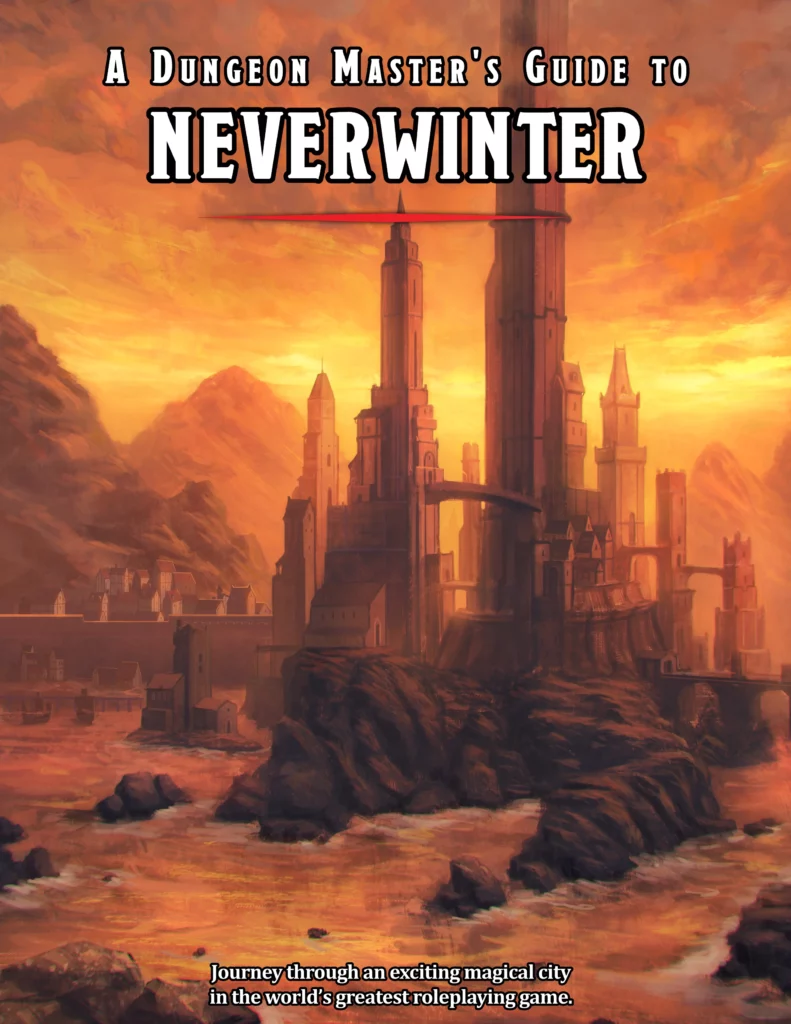 There's a whole lot more to this guide. If there's anything in this guide that isn't available for download here, feel free to contact me or leave a comment on this post and I'll see what I can do! Furthermore, if you have suggestions for additional content you'd like to see in this guide, or have any corrections that you think should be made, then don't hesitate to reach out!
Thank You!
Have questions or requests? Please feel free to leave a comment below, contact me. Join me on my Discord Server to get an early peak at stuff I'm working on!
I've had a number of people reach out to me and ask how they can pay or donate money for my work. Simply knowing others are getting enjoyment out of these creations is absolutely reward enough for me. However, if you feel you absolutely must give me something – I have created a Ko-Fi link so that you may buy me a cup of coffee. Thank you so much!
Fan Content
A Dungeon Master's Guide to Neverwinter is unofficial Fan Content permitted under the Fan Content Policy. Not approved/endorsed by Wizards. Portions of the materials used are property of Wizards of the Coast. ©Wizards of the Coast LLC.